LEARN ANY SONG on the PIANO in MINUTES!
Even If You Have No Experience Or Talent.
Two eBooks for $5.95 or Printed Books $17.95 
IF YOU HAVE TRIED AND FAILED TO LEARN PIANO...
MAYBE YOU ARE LIKE MABEL
Mabel was just about to turn 83... 
and thought she would never realize her dreams of 
playing the piano.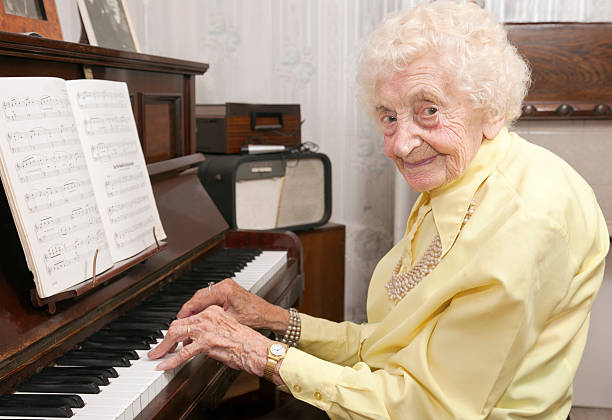 For years she had taken lessons but wasn't able to play the songs she wanted. 
She took expensive private lessons with the best teachers... 
She took group classes at the local community college... 
She bought every instruction book she could find... 
She tried everything but nothing seemed to work.
Mabel is not alone...



DID YOU KNOW 90% OF THE PEOPLE WHO TRY PIANO WILL QUIT WITHIN THE FIRST YEAR?!
After teaching over 5000 students all over the world and having seen this pattern over and over...I've had enough.
Hi, I'm John Aschenbrenner, the inventor of the Piano By Number system and a Professor of Piano at Kent School in Kent CT., one of the most prestigious Preparatory Schools in the United States. I've played piano on Broadway, TV and Films and written background music for films.
I have had the complete classical music education but somehow wanted more, so I did things like write the music one year for the Ringling Bros. Circus, the next year winning an Emmy Award for Daytime TV.  Yet I have studied music seriously, with a BA from the University of California at Berkeley and graduate study at several instituions, such as the University of Southern California and Trinity College of Music, London. 
In the first few years of teaching  I started to see disturbing patterns. Perhaps the simplest way of saying it is that I saw lots of problems with traditional teaching methods.
For future professionals it was easy to withstand the drudgery of learning to read music. But for normal people, especially children, not intending to be professionals, reading music became the stumbling block they could not overcome.
Most People Tried, then Quit in Frustration.
The reason people quit piano is that reading music is far too hard to start with, and another musical language (numbers) must be used AT FIRST. The simplicity of using numbers was breathtaking, as I watched students, formerly apathtic, becoming enthusiastic and engaging with the piano.
NUMBERS FIRST, THEN NOTES!
When I first tried this new method of learning with several kids, they were astonished at how much fun the piano had become! Now, instead of dreading piano like the dentist, the kids waited at the front window in anticipation of the fun!  
"I understood what you were doing almost instantly...This simple approach was all I needed! I now enjoy playing the songs I love every single day. My only regret was that I wish I had discovered this sooner!" - Mabel Partridge
I started trying this method with my other students... and whether they were children, teenagers, or adults, the results were amazing!
Kids Love It!
So WHY Do Most People FAIL? And What Made It Possible For Mabel And All These Students To Succeed? 
THE REASON MOST PEOPLE FAIL IS ACTUALLY NOT WHAT YOU THINK!
It's NOT because they aren't talented...
It's NOT because they don't practice...
It's Because People Try And Learn Piano The HARDEST WAY POSSIBLE:
READING MUSIC!  
Trying to to learn piano with sheet music is like trying to herd cats.
It takes years to become proficient... and even decades to master.
So the truth is... unless you're committed for years and years of learning and practicing... you'll probably never learn piano.  
And because most people don't have the time and patience... they quit in frustration.
Want To Play A Song You Love?
Sorry...If you use sheet music, not without a million hours of practice. 
Play piano for your friends and family? Not if you try and learn like the 90% of the people who fail.
So What's The Solution?
Get Rid Of Sheet Music... And Just Use Numbers!
Because With "Piano by Number"... Everything is MUCH EASIER!
How did Mabel and many others learned in days what others have failed to learn in years?
Actually... it's so simple you can see it in the name...
We teach Piano... by Number!
Instead of using traditional music notation that takes YEARS to learn... We spell everything out with simple numbers that are easy to comprehend on sight!
Even if you know nothing about music or the piano. 
Try A Song On Our Online Piano!
Use your mouse (desktop) or finger (tablet) to press the keys. The asterisk denotes a rest or silence in the music.
Our songs range from baby-simple to quite complex. Here's a simple one:
TWINKLE TWINKLE LITTLE STAR
| 1 1 5 5 | 6 6 5 * | 4 4 3 3 | 2 2 1 * |
| 5 5 4 4 | 3 3 2 * | 5 5 4 4 | 3 3 2 * |
| 1 1 5 5 | 6 6 5 * | 4 4 3 3 | 2 2 1 * |
Some piano teachers charge exorbitant amounts, like $250 an hour, for piano lessons. That's fine in you teach at Juilliard or a world class school.
We make it economical to get started: $5.95 for two ebooks, or $17.95 for Printed Books.